If you are new to this service please take a few minutes to review the helpful tips and suggestions in these articles. For other questions please use our

customer contact form

to submit your inquiry.
---
Co-op Owner
Please create your webcart account using your member-owner account for patronage dividends and other owner benefits. Follow instructions below:
Click on Login on the top right of the webcart page.
Then below the login and password section, click on:

Reset Now

.

This will take you to the password assistance page.
Select a reset method: email, text or call. Important, do not close out this page. You will be sent a verification code that you will enter in that page. Please use the phone number or email associated with your member account. If you don't know, please contact us and we'll be able to help you.
Enter the verification code that was sent to you, you will then create a password for your webcart account.
Once created, you can now login using your member number, email or phone number (associated with your account) and the password you just created.
Not a Co-op Owner
If you're not a Co-op owner, shop and once at checkout you'll enter your contact information.
---
Note for member-owner quarterly discounts:
Owner coupons will automatically be applied to your order when available.
To save your coupon for a future purchase: please uncheck the box next to the coupon when viewing your shopping cart, as shown in the image below.
The 10% discount for members is available to use one-time in March, June, September and December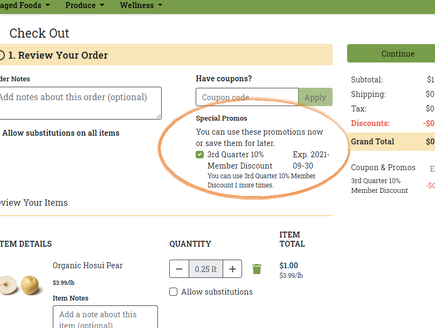 ---
Shopping Tips
​You can use the search bar to find specific items ​Or browse the shopping categories by clicking the menu items in the top menu (side menu for mobile):
When you find your item, click "Add to Cart", or you can click on the item to get more info
Please keep in mind:
You will not be charged for items that are out of stock.If an item is out of stock it will not be included in the order.
When ordering produce, please know that bananas and avocados can be under-ripe or at peak ripeness. Please understand that this is unavoidable due to distribution schedules. If you have a preference, you can add item instructions to items in your cart.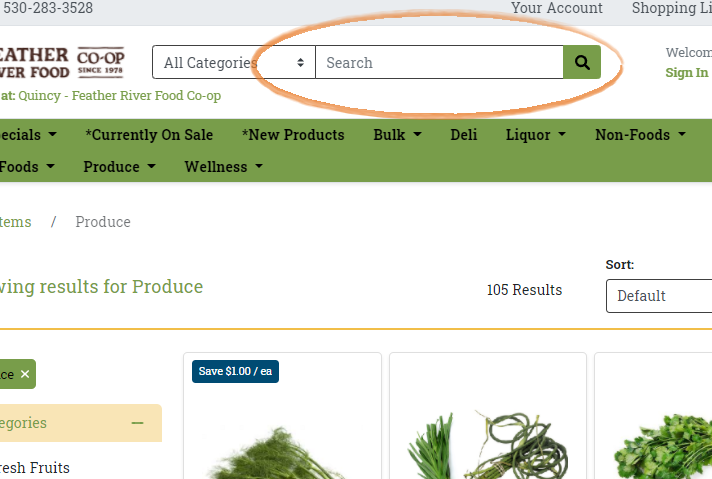 ---
Substitution Policy
If your requested item is out of stock on the pickup day, we will not make any substitutions for like products by default, and you will not be charged for the item. Unfulfilled items will still show on your receipt but with a $0.00 price.
If you would like to specify allowable substitutions for crucial items please do so by selecting "allow substitution" indicating your preferred substitution in the "Add Item Instructions" option in your shopping cart. You can also add "order instructions" prior to checkout.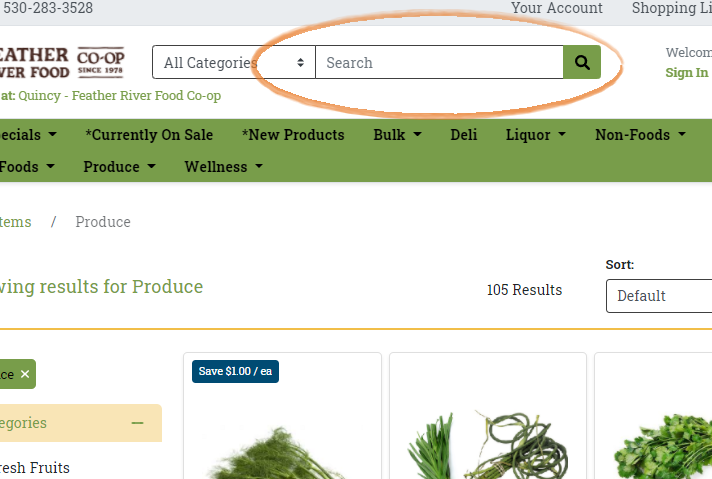 ---
Checkout process:
When you're ready to check out click on, order now. You'll be prompted to follow the next steps:
Fill in or verify that you have the correct contact information.
Choose a receiving method. We currently only offer Curbside Pickup. At this step you will also choose a date and time you want to reserve for your pickup.
Choose your payment method (Credit card payment or Pay at pickup). 
Review and confirm your order. Check items, quantities, discounts and anything that may apply.
---
Picking up your order:
Once your order is placed you will receive an email confirming your order. Print the barcode in the email for easy retrieval at the register. Then you can sit back and relax! Our shoppers will fill your order by your reservation day and time and you will receive a notification by email and/or text that your order is ready for pickup. While your order may be ready for pickup before your reservation time, please come to the store at the time you had selected at checkout.
When you arrive to the store, give us a call and a staff member will come out and greet you. Give the associate your printed barcode. If you don't have it, the associate will ask for the name your order is under, and then an associate will help you with payment and loading of your groceries. Any orders not picked up within the scheduled time frame will be returned to the store.
---
Frequently Asked Questions (FAQ)